Hello!!
Hoy vengo a darles una excelente noticia!
No quiero que se pierdan esta oportunidad de conseguir los productos de Sigma que siempre quisieron con un descuento especial del 10% a partir del 1 de Julio hasta el 31 de Julio.
Today I come to give excellent news!
I don't that you guys miss this oportunity to get the products of Sigma with a special discount of 10% OFF from July 1 until July 31.
Para conseguirlo...
To get it...
...solo ingresen desde este link o haciendo click en la imagen siguiente:
...enter from this
link
or by clicking the image below: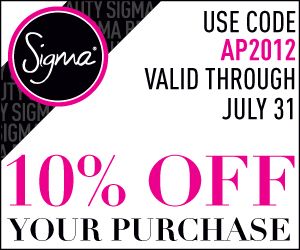 Hagan su compra con normalidad y cuando lleguen a la cesta de la compra ingresen el código de descuento AP2012


Make your purchase and enter the coupon code
AP2012
Y no olviden que por la compra de $30 o más conseguirán un regalo gratis de Sigma!
And don't forget! When get a free gift from Sigma you purchase $30 or more
o O o O o O o O o O o